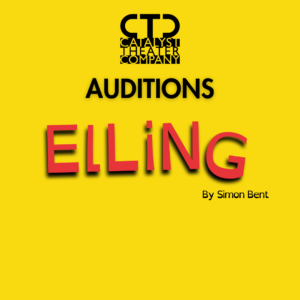 Elling is a 2007 theatrical adaption of the novel and film of the same name.  Simon Bent adapted Ingvar Bjornsen's novel and the show was produced on both the West End and Broadway to critical acclaim. The piece is about a sensitive, mentally unstable man who must move to a psychiatric institution when his mother, who has cared for him for 40 plus years, passes away.  There he meets Kjell and the pair become fast friends and roommates. After two years they are released from the institution into a government apartment in Oslo to make their way back into society. At first even the simplest tasks of independent life prove challenging. Soon the roommates begin to blossom in their own unique ways while discovering new friends along the way.  It is a comedic story of surviving trauma and dealing with the anxieties and complexities of what it means to be a functioning adult in society.
Elling: (CAST) Male 40s/50s: Institutionalized for 2 years, mama's boy, fragile, frightened of the world, well-spoken
Kjell: Male 40s: Simple Big Oaf of a man.  Elling's roommate in institution and the real world. Simple but not stupid.  Working class. Sex crazed 40 year old virgin. 
Frank Asli: (also Poet): (CAST)Male 30s: Elling's and Kjell's social worker, kind but firm
Alfons Jorgensen: (CAST)Male 50s-70s:  Famous Elder Poet, good-natured, wise and insightful; treats people with kindness and dignity
Reidun Nordsletten: (CAST) (Also Gunn, Johanne, Poet):  (1) vulnerable, needy, opinionated pregnant woman and upstairs neighbor (2) stern, manipulative social worker  (3) no-nonsense waitress; (4) "out-there" artsy poet
Show run dates are November 3-5 and 10-12.  Rehearsals begin October 9th and will be primarily evening.  Equity and non-Equity are both welcome to apply.  Please submit resumes/reels/headshots to nancykutzer@comcast.net and copy david@ctcproductions.org.  In-person auditions by invitation/appointment only. Sides will be provided upon submission of the above.
Any Inquiries send to david@ctcproductions.org
______________________
VOLUNTEERS WANTED
For event help, marketing, fund development, crew, house, cast support, creative and other positions*! Be part of the best team in Plainfield, NJ!
Contact David@CTCProductions.org to be part of this innovative theater company!
*Must be 18 or older to volunteer